News • 2019-09-23
PKF LATAM Regional Meeting, Santiago, Chile 2019
On September 1 and 3, the PKF LATAM Regional Meeting 2019 was held in Santiago. More than 28 professionals attended from firms of Argentina, Bolivia, Brazil, Colombia, Chile, El Salvador, Ecuador, Costa Rica, Guatemala, Mexico, Panama, Paraguay, Peru, Dominican Republic and Uruguay.
The topics addressed were IFRS Updates, IFRS 16, ISQM 1- 2, ISA 220, Cyber ​​security for banks, Forensic Audit, BlockChain, among others.
The rapporteurs were: Jamie Drummond (PKFI Director of Assurance-UK), Wilson Andia (PKF Dominican Republic), Jorge Badillo (Chile) and Hugo Benedetti (Chile).
As PKF Chile we are very happy of having been able to contribute to the organization of the event and share knowledge with all the participants.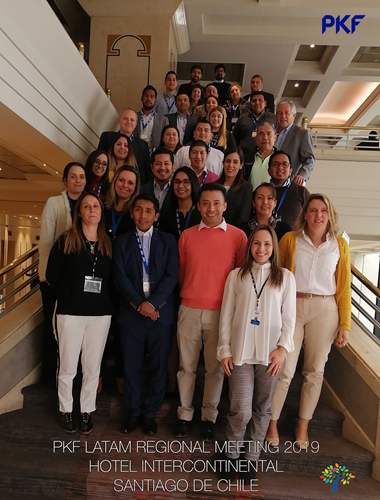 See more News items